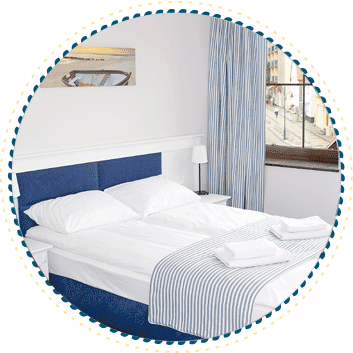 Want to have an amazing view from your room?
Each en suite room has a flat-screen TV with Satellite channels, an Internet access, fridge, air conditioning (available from June 15th till August 31st) and a balcony either with harbor or town view. Free WiFi is available in all rooms.
Portobello B&B Rules
Rooms and Apartments with harbour view.
Welcome to Portobello B&B website.
Probably you haven`t found us by mistake. You`re just about to find a place for a memorable holiday. Looking for a place to stay in Ustka, you have already made your first right move, now see our offer and let us spoil you. Close your eyes and imagine a place where the beauty of nature is just around the corner, a place where you can feel like home.
We have visited dozens of apartments all over the world, most of them we want to visit once again. We wondered why is that? What makes people want to come back? Our answer to all that questions is our Guesthouse Portobello.
We started with location, it had to be extraordinary. We looked for it for a long time and we belive we managed to found it in the heart of Ustka`s harbour just by the bullevard and the channel. Who haven`t ever dreamed of spending a warm summer night on a balcony listening to the sleepy town and a sea noise in the background?
You can open your eyes now, you don`t have to dream anymore. Visit our B&B and find out that there are places where you belong.